Fleas are a pesky nuisance that can affect the health and general wellbeing of your pets. Gladly, there are few tips for getting rid of the fleas in your house.
However, due to the fleas' life cycle, ability, and habits, fighting infestation is not a one-time battle. You can call it an entire war that could take days, weeks, or even months. It may be a bit tough, but you have to get it right.
Getting simple tips on bathing your pet may not be enough if you plan to rid your house of fleas. We would make it easy by discussing everything you need to know about ridding your home of fleas.
How often to vacuum for fleas?
Vacuuming removes fleas within the home. However, fleas grow in stages, which makes it a bit complicated such that you have to vacuum a few times – Before entirely eliminating the flea from your home, it's best to clean frequently. 
Once a week will help to prevent the infestation. But, if you are already battling flea infestation, vacuuming early enough and at least once every day for at least 14 days will expel a large portion of the eggs before recuperating. 
Focus on the areas where your pets rest or sleep. Also, run your vacuum along the rooms' edges and beneath beds, furniture, throw rugs, and furniture. Remember to seal the vacuum bag and discard it in an outdoor trash container. 
Fleas start as eggs on the surface of the host that are easy to repel by vacuuming. Since the flea eggs cannot hold firm on the host, the vacuum is proven to expel 90% off carpets. 
In 2-3 days, the eggs hatch out and become larvae. At this stage, they hide from light and live in the bottom of carpets. The larvae's movement makes them stick to the carpet fibers and become quite tricky to expel such that the vacuum eliminates only 50% of the larvae. 
When the larvae fully mature and start to spin cocoons to pupate, it develops silky stands that cling into carpet fibers and becomes more challenging to vacuum than in the previous stages. Regardless, the vacuum will still eliminate about 63.8% of the fleas.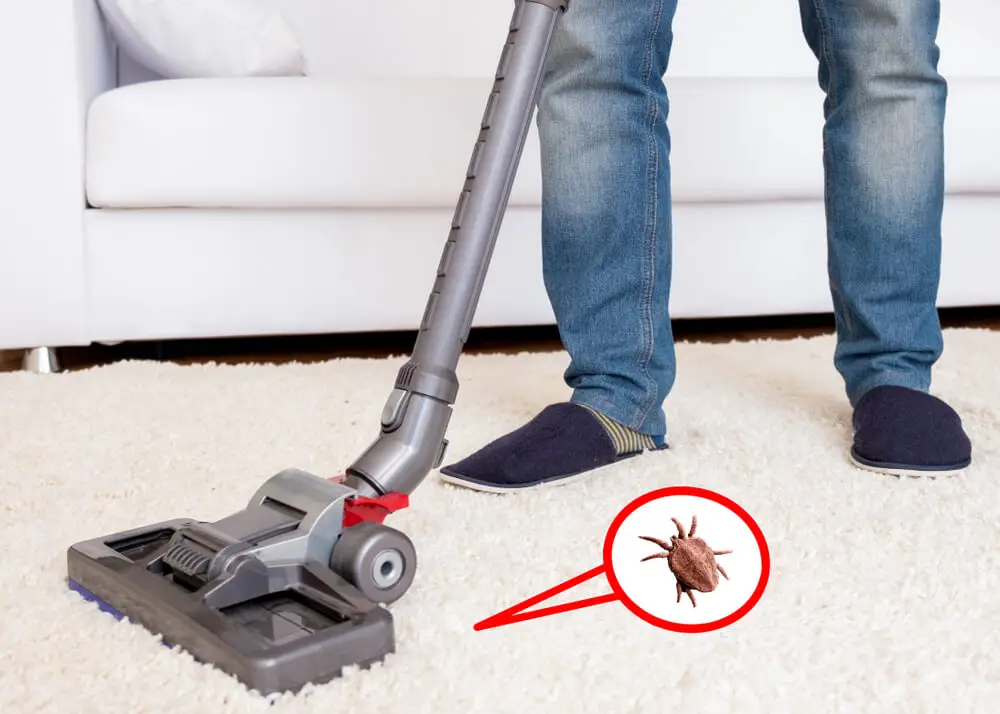 How long can fleas live in a vacuum cleaner?
The vacuum cleaner is one of the least toxic ways to control the infestation of fleas. But if you are wondering how long the fleas live in the vacuum cleaner. Maybe you should first ask if the fleas can live in a vacuum cleaner. The answer is NO!
The vacuum cleaner will kill about 95% of fleas instantly.
Due to the powerful suction and the vacuum cleaner's brush, the fleas' protective coats are removed and torn apart while they starve to death inside the vacuum. Some vacuum cleaners have strong vibrations capable of agitating the adult fleas hiding in nooks and crannies and out of their pupal. 
For the fleas to survive, they need to feed, and since there's very little or perhaps nothing to provide in the vacuum cleaner, they cannot stay for a long time. Also, the vacuum cleaner's space is harsh, and fleas are vulnerable, super sensitive organisms. They can't live freely in the vacuum's storage chambers.
With this, you can freely vacuum and capture the fleas hiding in carpets, rugs, or wooden floors regardless of their stage.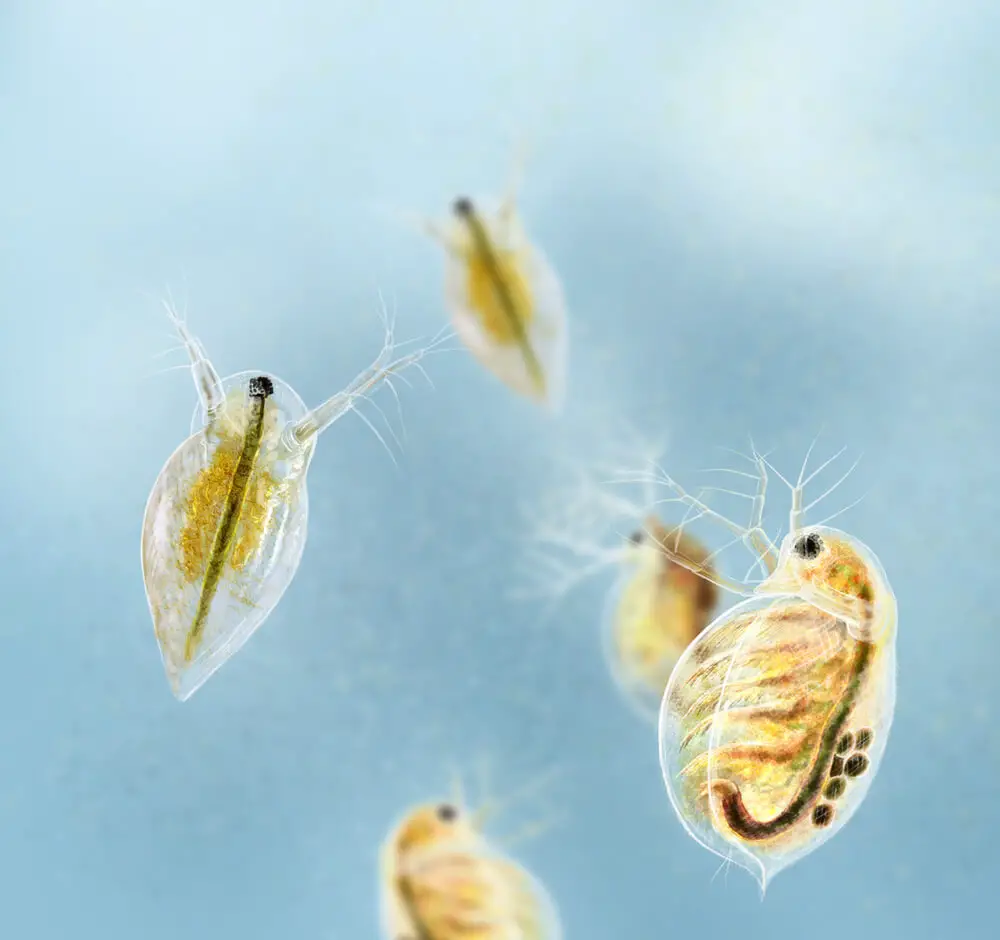 Does vacuuming kill flea eggs?
Thorough vacuuming is one of the best ways to get rid of flea eggs. The adult fleas lay their eggs on the host, and since they are not so sticky, they fall off into the environment. Typically, flea eggs make up more almost the entire flea population in an area. Getting rid of the eggs is the fastest and most effective way to eliminate flea infestations.
The eggs are also not tough. When the vacuum emits its suction force, it destroys the eggs. However, flea eggs can be a bit tricky to detect. They are almost microscopic and about the size of a grain of salt – typically 0.5 millimeters in length and only half as wide. 
Finding actual fleas or flea dirt in your environment or on your pet an obvious sign of flea infestation. The off-white color and oval shape of the flea eggs almost makes it easily seen as dry skin or sand. If you want to discern flea eggs from something else, place the speck on a dark piece of paper, and use a magnifying glass to identify the flea egg's oval shape features. Once you notice signs of the flea eggs, vacuum your environment thoroughly.
Can fleas get out of a vacuum cleaner?
To get rid of fleas, you start by vacuuming furniture like cushions, upholstery, and mattresses. You may be wondering if the fleas in you cleaned off your environment can somehow get out of your vacuum cleaner and get back into your homes. 
It may be fair to say that and you clean areas you suspect the fleas may hide, your vacuum pulls the fleas forcefully such that they cannot survive, and since they are dead, they cannot get out of the vacuum cleaner.
But the truth is that even if it's recommended to empty your vacuum bag, canister, and the garbage where you opened the bag or the canister, some critters may survive and climb back into the house. Especially if your vacuum cleaner bag sits inside the machine and the vacuum picks up eggs and larvae, the fleas may emerge and climb out. 
After cleaning, get an airtight plastic bag and put the vacuum cleaner bag in it before disposing of it in an external bin. For bagless vacuum cleaners, remove the internal tank, and empty it immediately after every vacuuming. You can also wash the storage chamber with hot, soapy water to ensure all the fleas, eggs, or larvae inside the tank are out.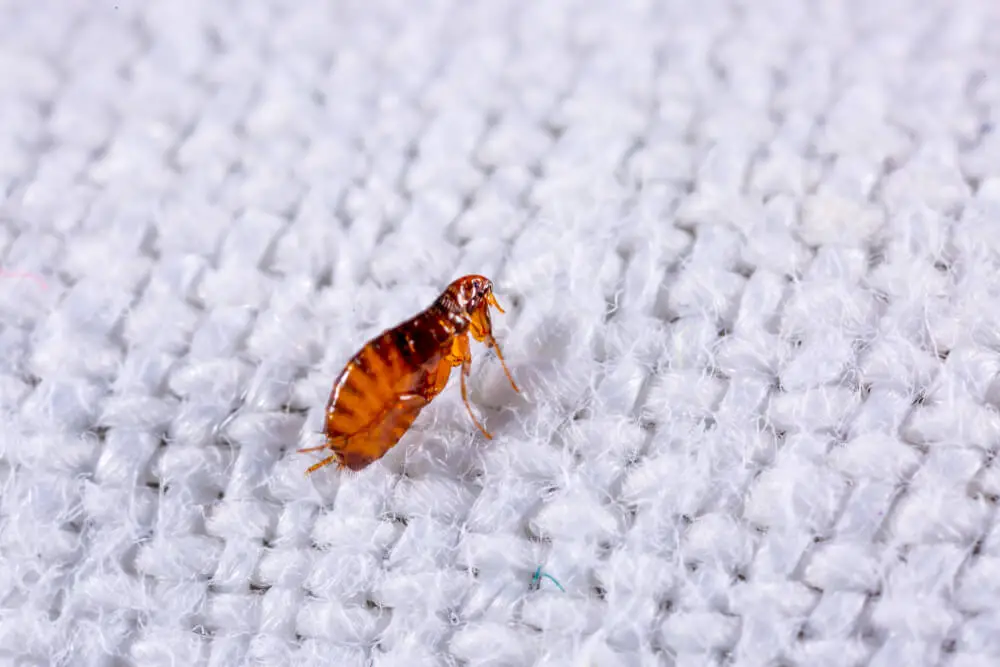 What to put in a vacuum to kill fleas?
​While vacuuming, you end up killing most fleas in your environment, but some of these insects may survive. The eggs and larvae also will probably emerge later on in the vacuum cleaner bag. If this happens, the fleas can climb out and crawl back into the house.
Although, it's a smart move to put the vacuum cleaner bag in an airtight bag and dispose of it in a rubbish bin away from your house. You can also take a step further by removing the empty internal take after cleaning and washing with hot, soapy water to ensure that all the fleas, eggs, or larvae in the tank are dead. Some vacuums come with UV light to terminate flea eggs, dust mites, germs, bacteria, and modes to prevent the spread out before it gets out of hand. Applying boric acid, salt, baking soda, or flea sprays to your carpet before vacuuming will ensure the fleas are all dead.
Another way to ensure your vacuuming your environment gets rid of all the fleas and eggs in the home is to use flea sprays. Follow the instructions, including the length of time your pets and children need to leave the room after treating and ventilate the room afterward.
Best vacuum for getting rid of fleas
​The best vacuums to take care of your flea problems have extra extenders and attachments to remove and eradicate household pests. They have a beater bar or powered head and suction insects like bed bugs, fleas, ticks, dust mites, and ants. Not only these, but they also need to have a hand-vac or extension wand attachment to reach corners, cracks, and crevices.
Dyson Light Ball Animal Upright Vacuum Cleaner
Dyson does not disappoint when it comes to powerful vacuums, and the Light Ball Animal is no exception. It's one of the best vacuums you can buy if you have pets. Dyson is not only famous for its suction power. The efficient whole machine filtration is another reason it's the best vacuum for flea problems. 
For a machine with powerful cleaning performance, it is lightweight and works quietly. Emptying the bin is also quick and easy with just a push on the button to release the dirt.
It comes with a ball technology to glide well on floors and improve maneuverability while picking up dirt and debris from both carpet and hard floors. The Vacuum cleaner has variable suction levels and modes to works perfectly for all types of floors. It also comes with a dedicated stair tool and a slim, flexible reach under tool that can bend around obstructions and get into awkward areas.
The Light Ball Animal Vacuum cleaner is engineered especially for homes with pets. It can efficiently suck up all types of pet hair without leaving stray hairs due to lack of power or causing any blockage. With the attachment option, you have a solid A-rated vacuum for cleaning pet beds right here. 
Pros
Great on carpets and hard floors

Superb edge cleaning

Brilliant tool design

Amazing reach

Quiet and easy to use
Cons
No small pet tool

Reach could be better
Miele Complete C3 Cat & Dog Vacuum Cleaner
If you or any of your household suffer allergies, then the Miele Complete C3 Cat & Dog Powerline is the best vacuum cleaner for your home. The design helps to cope with dust and pet hairs. 
As the name suggests, pet owners aim to pick up human hairs and other debris. Included in the unit is a turbo brush to remove tufts of fur from upholstery and carpets. Miele's renowned reliability is not much of a factor in the realm of vacuum cleaners since all modern electric motors run for years without issues. Although, you can't say the same about all cordless vacuum cleaners.
For a Miele that isn't too expensive and still trounces most oppositions for design features, suction power, quality of its tough, crack-resistant plastics, this bagged vac is a most premium item. 
It comes with an upholstery nozzle, two main floor brushes, a dusting brush with synthetic bristles, and a suitable crevice nozzle to deal with thin cracks and tight spaces. At the back of the central unit, there's an opening to store all three accessory attachments. This attachment store is a significant bonus since you never have to worry about a cluster of plastic tools.  
The dust bag has a capacity of 4.5 liters which means fewer trips to the dustbin. Impressive right? It also comes with an ultra-long 8.5 meters cable to save energy and vacuum two to three rooms from one source in smaller properties. 
Instead of pulling the wires around after cleaning, an additional feature is to tap a foot on the rear plate. The entire cable automatically retracts into the vacuum with speed.  
Pros
Astounding suction power

Two options of brush heads

Space inside to store attachments

Superb design

Self-sealing dust bag

Excellent on all types of floors
Cons
The dust bag can be tough to remove

Poses some difficulties on carpet
Shark Duoclean Corded Stick Vacuum
The Duoclean corded vacuum is one of Shark's most advanced models with powerful suction. The unit features an improved version of the previously designed self-cleaning brush roll to pick up more pet hair and suck up flea eggs with a single pass. With silicone fins in the Duoclean system, the vacuum can maintain constant contact with the floor even during transitioning between carpets and hardwood. The soft roller pulls in both large and small debris to an efficient extent. 
When you have to get rid of fleas in a dark environment, the LED-lit nozzle on the vacuum makes it easy to see the exact places. Still, it comes with a 30-foot cord to reach difficult areas. The length is long enough to coast across the entire room without changing the plug-in locations.
The pet crevice tool, dusting brush, and self-cleaning pet power brush are perfect to handle messes and remove insects from furniture and small spaces. In addition to its advanced design, the product is easy to assemble and sports a detachable canister capable of extending to the cleaner head.
Like the previous vacuum cleaner, the HEPA filter and anti-allergen seal ensure that the dust and fleas (regardless of the stage) stay trapped. You can clean high up and underneath furniture with the lift-away pod without stressing about lugging the entire vacuum. In short, this Shark Vacuum model comes with all the meaningful upgrade that's well worth its price. 
Pros
Soft brush roller

Quiet operation

Superb suction power

Long foot cord

Self-cleaning technology
Cons
Steeper price point

Heavy
Our Top Pick
Dyson Light ball animal upright vacuum cleaner is our top pick from the three options of the best vacuum for getting rid of fleas. Asides from an excellent suction power, it also features filter simplicity for dealing with pet hairs without worrying about blockages or stray hairs. The vacuum also comes with attachment options to make your cleaning task simple and straightforward.
Wrap-up
The vacuuming process involves the rotating brush killing the eggs and sucking up the adult fleas. Moreover, dedicating only one session of vacuuming is less likely to control the entire spread of fleas. You have to carry out the process a few more times to ensure the menace is resolved. The vacuuming should be done correctly.
When you are done vacuuming, remember to empty the cleaner into a sealed plastic bag. Tie it tightly and dispose of it immediately in an external garbage container. It's also necessary to note that the vacuum cleaner may not solve all your flea problems, but it's still the most effective, non-toxic way to rid your fleas from your pets.