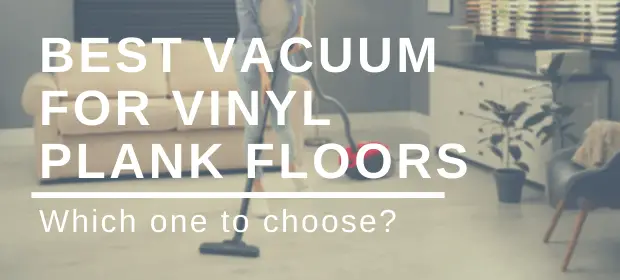 Asides from being one of the gorgeous looking and exotic flooring options, vinyl plank is also an affordable flooring option. It has a smooth surface and looks like a safe space for kids and pets to play and carry out their art projects.
However, regardless of how good looking and wonderful the vinyl seems, the biggest concern is avoiding scratches while cleaning. Most people need their vacuums for carpets and not much else. But for vinyl plank floors, you need a machine that can get the dirt wherever it may be and keep your house looking neat and shiny always.
This is why you need to go for the best vacuum for vinyl plank floors. They are selections from some of the best brands and models out there, with each one having at least a strong point to encourage your purchase.
Not only are we going to give you the top seven choices, but we will also give you a buyer's guide and other information needed to make your selection. We hope our review points you in the right direction and helps you get the right vacuum to keep your vinyl plank floors sparkling. Let's get into it!
Recommended Best Vacuum For Vinyl Floors Reviews
Shark Rocket DuoClean Ultra-Light Corded Vacuum
Pros
Strong and powerful suction for the size

Hard and soft bristle brush roll

The light weight of only 4.6 lbs

Easy to empty garbage

Lift-away features to clean areas above the vinyl like stairs.

Easy maintenance due to the washable filters

Auto shut off roller brush and powerful LED lights let you clean at anytime
Cons
Not battery powered in case there is no light.

Cord is heavy

It would not stand on its own
For flexibility and convenient cleaning, the Shark Rocket DuoClean corded vacuum can be converted into a hand cleaner. As an upright vacuum, it's weight is under 10lbs, and when you turned your Shark Rocket to hand-held, it weighs around 4.6lbs. The hand-held is more comfortable to manage around the workspace, home, or garage.
The adaptability of this cleaning machine is an attraction since you can use it to clean different surfaces, depending on your interests. It has a bristle brush roll suitable for deep cleaning and potent suction to get the dirt out of the carpet.
The design of the soft bristle allows the vacuum to clean hard surfaces like vinyl floors with care. You can switch from various power levels and adjust between a variety of tools and replaceable powerhead depending on the cleaning condition.
With the soft brush roll, the cleaning process sticks the dust and grime sticks to the roller instead of pushing it around and then picks up the more essential items. This way, the finished floor looks polished.
Asides from the tools, car details kits, and accessories bag supplied with the machine, the Shark DuoClean has a front headlight to help you see while vacuuming in dark areas. Also, it will alert you if there are any problems, and direct you to where it can be resolved.
Hoover FH40160PC FloorMate Deluxe Hard Floor Cleaner
Pros
The lightweight of only 14 pounds
Easy to rinse and wash tanks
Spinning scrub suits he hard vinyl plank floors
Wash and dry modes are available
Dual tank technology keeps water fresh and clean
Twenty-foot power cord
Extra-wide cleaning path
Clean boost releases detergent for spills
Cons
The brushes do not flush against the side, which means you cannot get to the wall totally
Regardless of the size, the water storage is limited
Leaving the vacuum on the hard floor can leak some water out.
The cleaning system is a bit complex.
For a vacuum that can remove dry materials like hair or dust from your vinyl plank floors, you can get the Hoover FH40160PC. Not only this, but it is also a capable power mop that scrubs, washes, and gives deeper cleaning to the floor. It comes with two modes – the wet and dry setting.
The clean boost control keeps the dirty and clean water separated so that the dirty one never goes back to the floor. When it comes to washing at severe levels, you can expect this vacuum to take a bit longer than the conventional mop and bucket; however, the outcome is always excellent. In situations like this, you can use water and vinegar to sanitize, then clean naturally.
The wash settings scrub the floor with water and detergent, but switching to the dry mode vacuums all the water back into the unit. This would save you the stress of wiping the vinyl plank floors after washing. It has an advantage of two water tanks – one tank to hold the clean water while the other to hold the dirty one. This dual tank technology ensures that the process is kept simple, and you can avoid spreading germ-infested water all over your vinyl floors.
Dyson DC33 Multi-Floor Upright Bagless Vacuum Cleaner (blue)
Pros
For an upright vacuum, it is lightweight
It comes with powerful suction
It copes with all floor types
A washable HEPA filtration system
Includes two attachments
Uses telescope wand for high places
Thirty-five-foot power cord
Onboard storage for accessories
Cons
It is not the lightest upright Dyson vacuum
Some components may not be as durable as others.
Unlike most vacuum cleaners, the Dyson DC33 is capable of cleaning both vinyl plank floors and carpeted floors. It is probably the most multi-purpose cleaner that can handle cleaning tasks from hardwood to tiles and almost all types.
It does not have the wash feature. However, the Dyson DC33 is versatile and powerful enough to clean a whole house in the fraction of the expected time. This vacuum does not have to make so many passes; it can handle different floor types effortlessly.
The Dyson DC33 upright bagless vacuum operates on a cyclone technology. It spins the air in the Canister at an incredibly high speed to move dust and pet hair directly into the bin. The vacuum uses a washable HEPA filter, which after it is thoroughly dry, you can put back.
In case you or any member of your household have allergies for dust mites, Dyson DC33 is allergy-friendly. It traps the smallest pollens and dust particles, preventing them from returning into the air. The transparent bin allows you to see how much dirt the vacuum is picking quickly, and know when it is full and needs emptying.
iRobot Braava 380t Advanced Robot Mop
Pros
It has both dry sweeping and damp mopping mode.
It works with either microfiber cloths or disposables
It takes only two hours for a full recharge
The slim design allows it to clean under the furniture
Comprehensive cleaning as a result of the navigator
It returns to the charging dock immediately
It is suitable for all hard surfaces
Cons
The cleaning capacity is limited
Soap and detergents are not recommended
Robot vacuums have been around for a while now and are now becoming the next real deal. They use more sophisticated technology for their methods of cleaning. The iRobot suits almost all types of floors, including the hard floor types like vinyl plank flooring.
It can operate as a dry or wet vacuum, which means this iRobot comes the option to damp mop and also dry sweep the floors. Braava 380t Robot uses navigations like our car's GPS only that it works indoors.
It recharges with a turbocharge cradle. A full charge should take 120 minutes, but it depends on the mode you are using. The sweep mode runs longer for up to 1000 square feet, while the mop mode is lesser with about 350 square feet before needing a recharge.
The Braava 380t Mop uses removable magnetic multi-purpose pads. It also comes with reusable microfiber cleaning cloths. Due to the limited water capacity, it is an excellent choice for cleaning up a small amount of dirt or mopping spills.
Overall, the robot ensures your vinyl plank floors stay clean always; however, you may still have to do a full mop once in a while. It is worth it!
Shark Sonic Duo Carpet and Hard Floor Cleaner (ZZ550)
Pros
Applies 1000 scrubs per minute
Lightweight and maneuverable
Leaves a polished finished surface
Washable microfiber pads
Useful for both hard floors and carpets
LED headlights
25-foot power cord
Cons
Cleaning pads require washing after every use
The detergent will need expensive replacements over time
The first thing you may notice about the Shark Sonic ZZ550 is the color-codes which is designed according to the use. The tool is an all in one vacuum cleaner with colors indicating the right accessories for cleaning hard floors, carpets, and polishing floors. It makes it easy for you to get the right one you need.
Apart from these, Shark Sonic ZZ550 is designed for all floor types. It assures you of a bright finishing after cleaning. Even if the vacuum seems a little complicated at first, it is quite easy to use. There is no need to get a polisher since the vacuum cleaner does not require wet polishing.
The Shark Sonic ZZ550 has a lightweight and swivel ability for easy maneuverability with less effort to push around. While in dark areas, you can always use the lights on the cleaner head to find your way. When you may experience some resistance while sucking up dirt with full force, with several other vacuums, this one lets the debris glides through with ease.
If your worry is about the toxin in cleaning products, you can feel safe since this liquid is non-toxic, pet, and human friendly.
Bissell Symphony 1543A Pet Steam Mop and Steam Vacuum Cleaner
Pros
The vacuum has powerful suction
It holds at least two cups of water
It vacuums and mops at the same time
Maintenance and emptying the tool is easy
Cons
Thick power cord
The head doesn't pivot
For vinyl plank floors, the Bissell Symphony 1543A is another vacuum you should consider. The design is perfect for pet owners. When it comes to picking up dust, debris, or pet hair and steam mopping the floors at the same time, this tool fits.
The way the Bissell Symphony 1543A works, your vinyl plank gets sanitized after every wash. What's more, is that it kills 99.9% of the germs and bacteria. During maintenances, or while you empty the dirt tank after cleaning, moistures are kept out, and the contents will be dry. This helps you carry out the whole process without getting your hands dirty.
With less effort from you, the microfiber cleaning pads combined with the suction power of the vacuum together loosens and sucks up the dirt from the floor. They are also disposable and easy to change after every cleaning task.
After every use, the room will have smell due to the scented water in the mop. Also, for any type of hard floor surfaces, including vinyl plank floors, you can trust this one to work well.
Eureka NEU188A Power Speed Turbo Spotlight Upright Vacuum Cleaner
Pros
Easy to move through stairs
Suction power is good
Easy to assemble and use
Cons
The power cord could have been longer
It is not the quietest vacuum
With the weight of only 10lbs, the engineering of this upright vacuum from Eureka suits both carpet and hard floorings. If you need your machine to be modes up the stairs or into basements areas with ease, the Eureka NEU188A is right for you.
There is a LED light to increase visibility while cleaning darker regions. It also has stretch hose and other accessories tools to enable cleaning ceilings and light fittings. You can wash and quickly empty the dirt cup and filter since it is bagless.
For pet owners, Eureka NEU188A comes with a turbo pet brush attachment for beds and upholstery. There is a quick-release handle to help you switch between cleaning the ground floor level to above floor height during movements. It has five height settings for different types of floors, which is why it is one of the best vacuums for vinyl plank floors.
Buyer Guide – How to Choose the Best Vacuum for Vinyl Floors?
When trying to select a vacuum cleaner model for vinyl flooring, you need to get one that is suitable for your needs. This is where we have to consider the different types of vacuum cleaners.
Vacuum Cleaner Types
The types of floor surfaces are now more than we can account for, but the most common ones are the hardwood, vinyl plank floors, and tiles. Noticing this, vacuum companies try to continually look for new ways and technologies to improve their products.
This is probably a reason why there are constant releases of new types and styles of vacuums all the time. And as a result, it is difficult to follow up on them and avoid being misled, so we would discuss the most common types of vacuum cleaners you can choose from.
Upright
When most people consider a vacuum, the first thoughts on their mind is the upright vacuum. As the name describes, they seem to always stand in an upright position. From the top to the cleaning head, and the bottom, the entire tool is combined in a single unit.
Most models of upright vacuums are quite easy to assemble and use effectively. If you do not like cleaning so much, this one is perfect for you. It makes the task simpler, especially when deep-cleaning carpets. Upright vacuums cover a wide area and are easy to store.
The disadvantage here is that their design allows them to work on floors alone and no on other surfaces. Although they come with hose and attachments, you still have to deal with the limitation in reach and scope.
Canister
Unlike the upright, the canister vacuums have a separate cleaning head and a base unit, which allows free movement around the area. They are perfect for multiple surfaces in the home.
In case you have more than vinyl plank floors, or you plan to clean other surfaces, including carpets, furniture, and stairs, then the Canister is perfect. However, the downside is that they are bulky and quite difficult to transport or move from a room to another. Also, they are a bit more expensive than upright vacuum cleaners.
Stick
In recent times, the stick vacuum has not been around for long. It merely is an upright vacuum with a lighter weight and fewer features and accessories. Some sticks are corded, while others are cordless. However, they are highly portable.
One significant advantage of the stick vacuum is the ability to work as a multifunctional cleaning tool. Also, they are tall and convenient, so you do not have to bend while using them. When you need a cordless vacuum for vinyl floors, the stick is a natural choice.
They also come with quick and easy to interchange attachments and can easily be converted to hand-held versions. Storage spaces will not be a problem since they are streamlined and only need small places to be stored.
Robot
As much as we are used to the other vacuum types, the robot vacuum cleaners cannot be ignored. Although they are the newest technology, one way or the other, they have become a significant aspect of people's daily lives. For robot assistants, this is a big deal.
They are a new-age technology with intelligent programming to map out and adjust to their environment and move around automatically. These robots can reach and clean places in tight corners that human hands cannot reach.
Even if Roomba is the most known robotic model, other types of robotic cleaners are perfect solutions for vinyl plank flooring. However, like the previous vacuum types, there are disadvantages.
Robot vacuums sometimes miss some spots and maybe selective with surfaces. Occasionally, they may also be ineffective with minor messes or spills.
Attachments
Asides from the type of vacuum cleaner, you also need to choose based on the attachments they have. The accessories determine the extent and amount of cleaning you can carry out with your vacuum.
These attachment kits come with your tool, enabling you to clean all types of surfaces, including furniture, stairways, countertops, upholstery, and even your car interiors.
If you need a versatile and powerful cleaning tool, then the importance of the attachment non-negotiable. To maintain a beautiful and clean home, you should go for one with a wide assortment.
Vinyl And Vinyl Plank Floors Are Not The Same?
Vinyl floors are also known as Luxury vinyl tiles. They look finished like stones or natural tile floors. Most times, they are used for bathroom or kitchen floors. The vinyl plank or luxury vinyl plank floors, as you may choose to call it, are more like hardwood flooring.
They are finished original wood. Compared to vinyl, they are thicker with about 8mm and are used for the original flooring of the house. Vinyl plank floors are more resistant to scratch than the vinyl floorings.
Although they are both used for commercial areas in the home, the vinyl plank floors also last longer and are way more expensive than the vinyl floors. Therefore you have to know the differences and make the right choice while selecting the cleaning tool.
F.A.Q
How to Care For Vinyl Plank Floors?
It is possible to have several types of floor surfaces in your home that will require different cleaning processes. Furthermore, the location of the vinyl plank floors in your home determines how you would care and maintain it.
However, the vacuum cleaner in our review ensures they are adequately cleaned. Using steam mops in the kitchen and washrooms works fine since the construct of this type of floorings has waterproof qualities.
Also, daily sweeping and vacuuming can keep the vinyl plank floor in good condition. It reduces the dirt and grime; it also does not leave scratches on the floor surface. However, to prevent damages on the finishing, avoid using harsh chemicals on the vinyl plank floors. Vinegar can also be dangerous to this flooring.
Ensure to read the instruction on any cleaning chemicals before applying them. Although it is quite resistant to scratches, be careful while moving objects like chairs or large furniture on the floor.
Can You Use A Steam Mop On Vinyl Plank Flooring?
There are so many types of floorings in our modern lives; it can be a bit frustrating to know that ones you can clean with a vacuum safely without causing any damage. Often, the confusion can be with either you can use a steam mop on vinyl plank floorings or not.
Well, the answer begins with understanding the type of material that makes up this type of floor. Like we have mentioned above, the vinyl plank is constructed from 100% synthetic materials with a finished veneer coat on top. Using steam mops to clean the vinyl plank floors should not cause any damage to the flooring. The cleaning process is not so different from how you clean other floors like tiles, ceramics, or porcelain floors. You just have to be conscious of the fitting since glues and adhesives are sometimes used. The temperature of the steam mop is also critical. Check the settings and ensure it is not too high.
How to Make Vinyl Plank Floors Shine?
Although it is advisable to ensure your floor maintains the natural shine, but sometimes it can get dirty that you use some dishwashing soap before mopping. This can reduce the shine of the flooring.
However, you can fix it by adding a few drops of baby oil to vinegar and water solution. Then follow the normal cleaning process, and the traces of lubrication should be removed while your vinyl plank floors shine again.
Can You Mop Vinyl Plank Flooring?
While cleaning the vinyl plank flooring, the mildest possible method is always the preferable solution. Sweeping or vacuuming regularly and wiping off spills right way works. However, when the broom cannot get the dirt out, use a dampened mop with warm water to clean the surface. If this does not work, you can use soap as long as it works for your floor. Overall, you can mop your vinyl plank floors as long as you are doing it the right way and using the right detergent.