There are lots of different Dyson vacuums out there, each of which make for great choices in their own right. You only want one vacuum, so you are going to need to make a choice here. Different vacuums have different strengths and different features. This is something that you will always need to take into account when figuring out which Dyson is right for me.
Dyson DC 65 Animal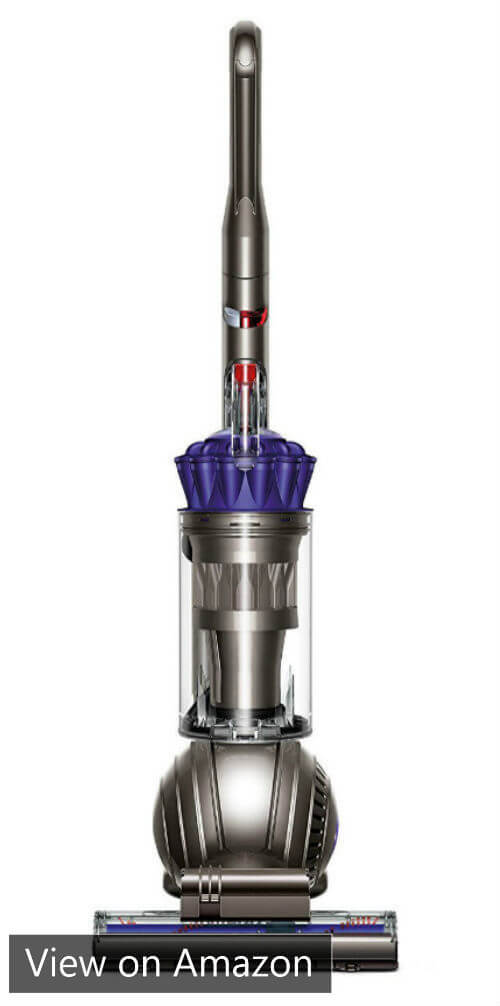 We really like the Dyson DC 65 Animal for a variety of reasons. One of the best parts about this particular vacuum is that it does a fantastic job at cleaning our hard floors and carpeted areas too.
This model comes with a brand new power brush roll that has 25% more power and gets 25% deeper into carpets than previous models. This is a big deal for us because we have lots of carpets in our home, but Just as many floors with hard wood and tile. The Dyson DC 65 Animal has a button so we can seamlessly switch from hard flooring to carpets.
We also really like how the Dyson DC 65 Animal uses ball technology to help us maneuver through the home. The classic Dyson ball is really useful for getting around clutter and obstacles, so much so that it can even turn on a dime. The fact that many of the main components are located inside of the ball, as opposed to on the exterior, help to make it even more maneuverable.
As the name of the Dyson DC 65 Animal implies, it is specially equipped to deal with pet hair. The Dyson DC 65 Animal comes with a couple of different features which make it easy to pick up all of that pet hair from our dogs without clogging or tangling the brush head. This is a very valuable aspect no doubt.
On a side note, you also get a tangle-free turbine accessory for cleaning pet hair off of various kinds of upholstery. You also get a couple of other accessories including an up top tool for getting on top of appliances and furniture, a reach under tool for getting under those same things, a mattress cleaner, a soft dusting brush, a hard bristle brush, and a 1 in 1 combination stair tool as well. We really like how you get so many different accessories with the Dyson DC 65 Animal.
The Dyson DC 65 Animal stands up all on its own, it has a fairly large filter canister, it is very powerful, it works well for carpets and hard floors, and it does exceptionally well with pet hair.
PROS
What we like:
Good cyclone tech and suction power
Great brush head
Button to switch from carpets to hard flooring
Great for pet hair
Comes with tons of accessories
Big canister for dirt
5 year warranty
Very maneuverable
Stands up on its own
CONS
What we didn't like:
Doesn't work great for stairs – fairly heavy
Extension cord is pretty short
Check Price
Dyson V6 Slim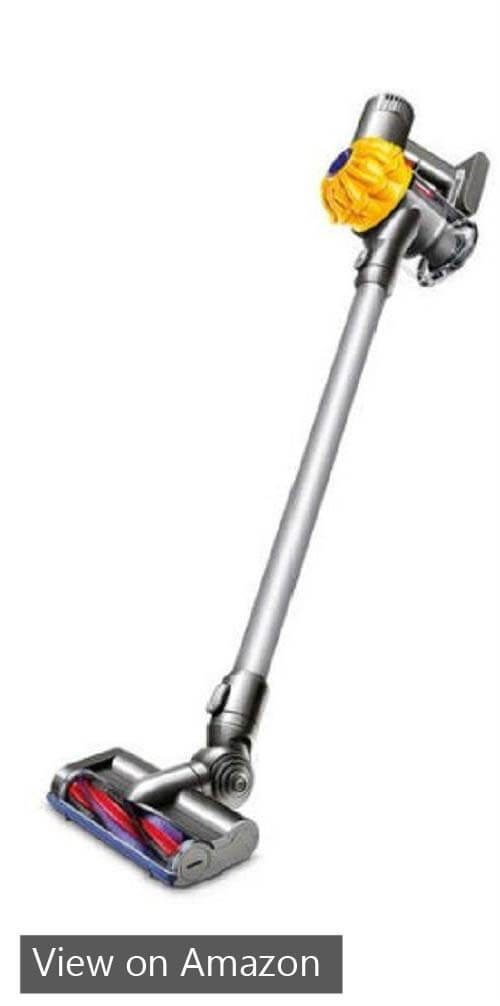 Another good choice to go with courtesy of Dyson is the Dyson V6 Slim. Without a doubt, as the name implies, one of the best parts of this particular vacuum is that it is extremely lightweight and compact.
If you need a good vacuum for small spaces, cramped areas, and for stairs, the Dyson V6 Slim is a really good choice to keep in mind. It's lightweight and small size make it one of the more maneuverable Dyson vacuum models on the market today.
The 2 tier radial cyclone system combined with the Dyson V6 digital motor help to provide the Dyson V6 Slim with tons of suction power. This model is specially designed to not lose suction over time, even when the filter and canister is full of dust and dirt. The suction power is more than enough for cleaning up all sizes of messes, except for maybe the very largest of messes.
Yet another thing that stands out about the Dyson V6 Slim is that it is cordless. We hate dealing with power cords and always having to look for an electrical outlet, so this is something that we really like. The Dyson V6 Slim can last for a total of 20 minutes before it needs to be recharged, but recharging is pretty quick, so it's not a huge deal. The battery life could be a little better, but for smaller messes this works just fine.
Something else that we really like is that the front nozzle is removable, thus instantly converting the Dyson V6 Slim into a handheld vacuum. This is convenient for stairs, for upholstery, and for cleaning up small messes like a pile of cheerios.
Finally, the Dyson V6 Slim does come with a brush head for carpets that can be turned on or off. It is not the best for really thick and deep carpets, but it works just fine for area rugs and thinner carpets
PROS
What we like:
Cordless – no power outlet needed
Very easy to maneuver
Small and lightweight
Max power mode for big messes
Fairly strong suction power
Brush head for carpets
Can be used as a small handheld vacuum
CONS
What we didn't like:
Battery life is short
Dirt canister is small
Doesn't work well for pet hair
Check Price
Dyson Big Ball Multifloor Canister Vacuum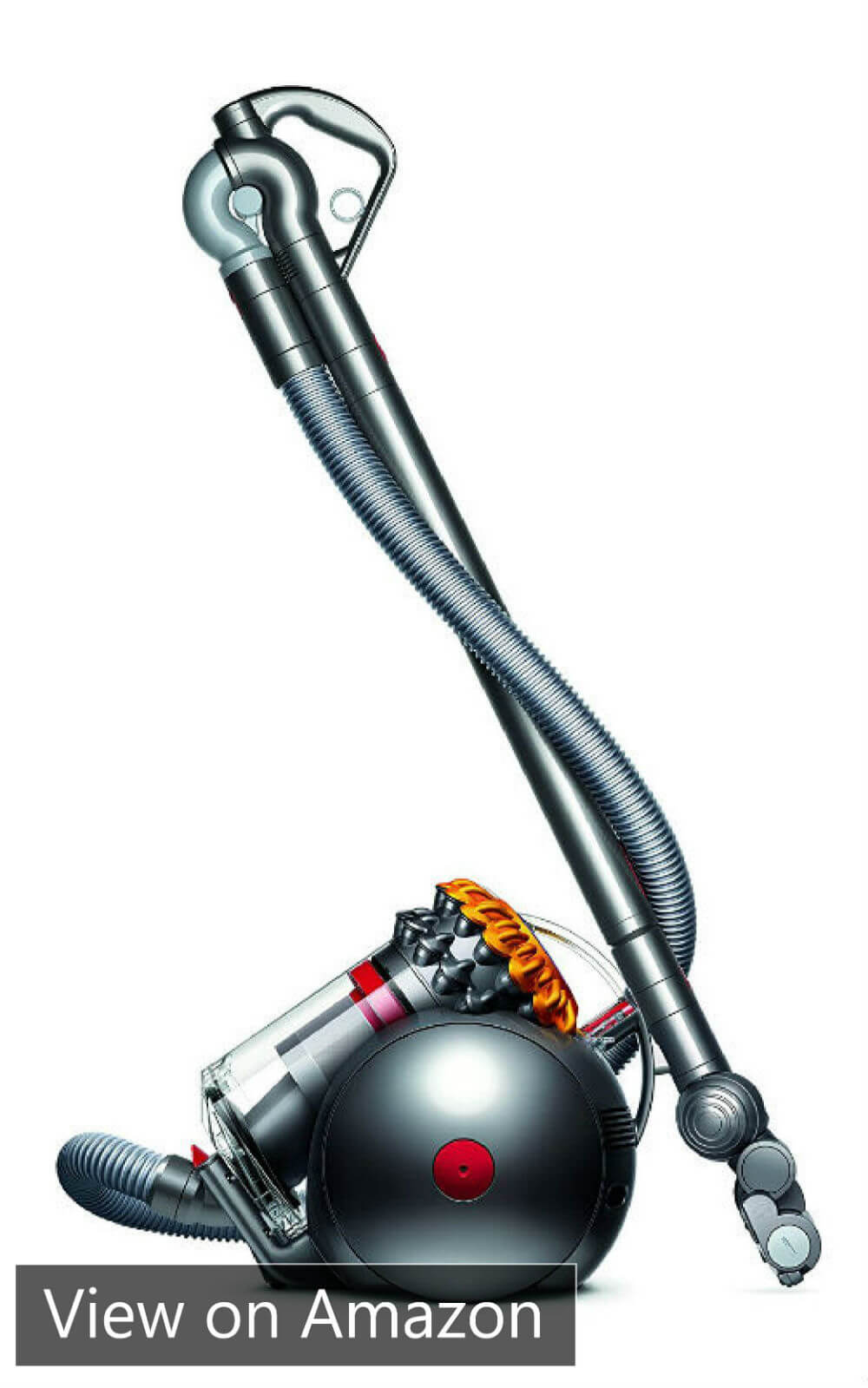 This final choice is another great one to go with. It may not be as small, lightweight, or quite as maneuverable as other options, but it does a great job in its own right.
Out of all of the Dyson models looked at today, the Dyson Big Ball Multifloor Canister Vacuum is probably the most powerful of all. It uses dual radial cyclone tech combined with a really strong motor for long lasting suction that does not deteriorate over time.
Whether sucking dirt off of hard flooring or carpets, the Dyson Big Ball Multifloor Canister Vacuum doe an excellent job. When it comes to carpets, the Dyson Big Ball Multifloor Canister Vacuum comes with a carbon fiber floor turbine tool.
The brush roll on this tool is specially designed to lift dirt out of the deepest of carpets with ease. This is great for us because our home has lots of carpeting.
Perhaps the neatest part about the Dyson Big Ball Multifloor Canister Vacuum is that it is self-righting. In other words, if the canister tips over or falls down, it will get back up all on its own. Another feature that we like is the hygienic dust bin that uses gravity and a spring mechanism to push dirt out without us ever having to get our hands dirty. On that same note, the dust bin on this model is really big, which means not having to empty it all of the time.
Speaking of dirt, this model comes with total HEPA filtration. This means that the Dyson Big Ball Multifloor Canister Vacuum cleans the air of allergens, dust, dirt, and other particulate matter so that the air we breathe is clean and clear. We do like how the ball on the Dyson Big Ball Multifloor Canister Vacuum contains most of the components, as opposed to those components being on the exterior of the vacuum. This does help cut down on the size and make it more maneuverable.
PROS
What we like:
Extremely powerful suction
Suction does not die down
Great for carpets
Works well for hard floors
Maneuverability is decent
Comes with full HEPA filtration
Self-righting
Works pretty well for pet hair
CONS
What we didn't like:
No other accessories included
Hard to use for stairs
Not great for tight spaces
Check Price
CONCLUSION
When it comes to the question of "which Dyson is right for me?" you need to weigh the features of each vacuum against your own specific needs. If you spend some time doing this, you will have no problem finding the one that works best for you.