Clean houses are compulsory for most of us. However, our busy work and schedules don't stop getting in the way. Most of us resulting in using a modern approach to cleaning is no longer a surprise. With smart cleaning robots like the Shark Ion Robot vacuum, you can save your day from the difficult cleaning tasks and focus on your activities.
The Shark Ion Robot uses mobile applications where you efficiently operate and monitor anytime you want.
When it comes to cleaning solutions, this device is the perfect solution, because:
With the dual spinning brush, you reach and clean debris off the edges and corners of your home
Other features like smart sensor navigation to seamlessly navigate the floors and adapt to obstacles
a self-cleaning brush roll that can collect hair, dust, allergens, and dander to prevent the build-up of dirt in your home.
The easy-to-use Wi-Fi connectivity allows for optional cleaning and scheduling.
As useful as the Shark Ion Robot is at solving your everyday cleaning problems, it can also be hard to manage for some users, especially when you don't fully understand the device's manual.
The main challenges users face could be Wi-Fi problems or related software issues. However, resetting your device can fix this.
Knowing how to reset the Shark Ion Robot can be quite complicated. Luckily, we have a guide to help you do this with ease.
What exactly is Factory Reset?
Factory reset or hard reset is a useful troubleshooting feature that reboots your Shark Ion Robot and sends it back to its original settings. It returns the device to the way it was before leaving the factory.
By doing this, you will wipe all your Shark Ion Robot's memories clean. This would include deleting all robot data:
such as maps,
schedules,
Wi-Fi credentials,
3rd party connections,
preferences,
and other device settings.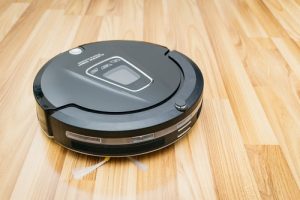 Shark Ion Robot returns all language selections, cleaning preferences, and time-zones to their previous state and removes the app's device.
But if you perform the factory reset using the device itself, cloud data, app data, and other associated accounts will remain intact.
As scary as this may seem, rebooting helps to remove lots of software issues from your device and gives it a clean slate. While it's almost as good as new, you get to make new memories with your Shark Ion Robot in no time.
When to Reset the Shark Ion Robot
Before we proceed, know that resetting the device is not something you do every day. We recommend considering this troubleshooting feature only after trying other hacks without results, or you are in one of the following scenarios you can read further in this article.
1. Your Shark is not connecting to your Wi-Fi Network
Sometimes, when you newly purchase a Shark Ion Robot, it might take a couple of tries before it complies and successfully connect to the internet. However, ensure you're using the Shark recommended frequency.
Some vacuums work on 2.4 GHz, while some others work on both 2.4 GHz and 5 GHz.
Also, try to reset your router and see if your device can connect.
If you have done all these and cannot see other reasons why your Shark Ion Robot is not connecting to the Wi-Fi network, maybe it's time to factory reset your device.
2. Software problems
For the Shark Ion Robot vacuum cleaner to operate properly, it needs software.
Like other digital devices, when the software starts having issues, it begins to behave oddly.
Some software issues include:
Cleaning at wrong hours
Spinning around
Moving without picking dirt off the floor
Failing to find the dock station
Deleted set schedules
Launcher, not loading these scenarios is proof that your Shark may have too much data in its memory. The recommended way to renew your device to its full functions is by resetting and removing all unnecessary information from the robot.
3. Transferring ownership
Resetting your Shark Ion Robot is also necessary when you resell or transfer ownership of the robot cleaner to another user.
It better to hard reset the device to its default before handing it over to a new user. Doing this gives the Shark enough memory space and avoids messing up the new user's Wi-Fi network, preferences, or cleaning schedule.
Shark Ion 700 series Error list and how to fix (Check this video)
Other Hacks You should try before Hard resetting your Shark Ion Robot Vacuum cleaner
1. Cleaning at wrong times
When from vacuum cleaner starts cleaning at odd times, it shows that the cleaning schedule is messed up. Here's what you do in this situation:
Open the app
Clear the existing schedule
Confirm that the clock is set to the right time (if not, set it)
Set the schedule according to your preference
2. Spinning around
If the Shark Ion Robot is turning in circles, you may be having issues with the navigation algorithm. It's trying to cover more area by rotating in open spaces. Here's what you do.
Turn off your Shark
With a clean and dry cloth, dust off the bumper lens
Press the bumper several times and confirm that it moves freely.
3. Moving without picking dirt off the floor
When the vacuum cleaner moves, but there are still dirt and debris on the floor, the fault is most times a mechanical one. Here's what you do:
Confirm that your brushes are not worn out
If it is, replace them.
4. Failing to find the docking station
A Shark robot failing to dock and bumping into walls might result from dirty charging contacts, or it does not properly recognize the charging station. The charging contacts are under the robot vacuum cleaner's surface, and it may get soiled sometimes.
Here's how you clean it:
Wipe the contact with dry cloths
When the dirt is much, gently use abrasive pads or steel wool to clean the surface, so it doesn't scour.
If the robot is not still recognizing the charging station or bumping into walls, try out these steps before going for a final reset:
Check that the location of your docking station is not in a hard to reach or dark area
Ensure the surface is hard and even
Put the docking station such that it has its back against a wall
Confirm that there are no obstructions within a 1-meter radius on the sides of the docking station
Re-plug and see if the robot can now find the docking station
Step By Step Guide To Reset Your Shark Ion Robot
Your Shark vacuum cleaner can stop functioning properly. Even after you have followed the error guide in the user manual and other tricks you may have up your sleeves to detect any mechanical issues, the problem remains.
In these cases, a factory reset is your last resort.
Factory reset it's the most effective troubleshooting feature of any device. While it may already sound like a big deal, it's straightforward if you follow the following step guide.
There are two main ways to hard reset your Shark Ion Robot Vacuum Cleaner:
1. Factory reset via the Shark Ion App
From both ways, resetting the Shark Ion Robot via the app is the most recommended means. But before proceeding to reset your device using this method, here's a list of data that this process will delete:
Cloud data
App data
Maps
Schedules
Time zones
Language selections
Association accounts
Your present third party speaker connection
Once you agree with these, you can now follow the following steps to reset your Shark:
Step 1: Open the Shark Ion App
Step 2: Ensure the mobile device and the Shark Ion Robot is operating on the same Wi-Fi network.
Step 3: Go to Settings
Step 4: Locate the 'Factory Reset' option, and tap on it. The reset is now complete.
2. Factory Reset using the Shark Ion Robot
Resetting the Shark via the app requires you to connect the device and the app to the same network.
Meanwhile, the Shark not connecting to your Wi-Fi network is one of the reasons why you may need to reset the device.
In cases like these, you need to do the hard reset manually.
From the list of data that will be deleted if you reset the device via your app, factory reset using the Shark Ion Robot itself preserves some data. The data that remains intact includes
App data
Cloud data
Account associations
Now here are the steps to reset using this method:
Step 1: Turn the Ion Robot upside down
Step 2: Locate the on and off switch
Step 3: Long-press the button for about 10 seconds to turn it off
Step 4: Wait for at least 10 seconds and press the button again to turn it on. The reset is now complete.
Wrap Up
Regardless of how convenient your Shark Ion Robot vacuum cleaners are or how they offer a lot of help when it comes to cleaning, there is still a downside. After all, it's a machine.
Without exceptions, it's liable to malfunction at any time. However, with the simple step-by-step guides, we have given, you can troubleshoot and solve the issue with your Shark.
By resetting the device, you can make the most of your device and keep it in a perfect state to clean your home. Factory resetting your Shark Ion Robot vacuum cleaner can be all you need to get your machine back on track and solve the problems causing those frustrating vacuuming sessions.