Getting an iRobot Roomba assures you of that fast-pace life where you live the hands-free cleaning paradise. iRobot takes care of your cleaning task automatically and lets you sit back comfortably and relax on your couch. 
The whole process can be controlled via the app on the smartphone. All you do is get the right software like the iRobot Home app to manage the Roomba. Even before you get started, you have to connect the robot vacuum cleaner to a Wi-Fi network.
However, to ease the complicated setups, you can have your Alexa, and Google Assistant set these orders for you. They are compatible with the Roomba, and after all, this robot cleaner is all about convenience. You can outsource these jobs entirely to your smart speakers and make the whole process super-automatic. I will give you a few hints you will need to get your Roomba vac working with Alexa and your Google Assistant.

How to Connect Roomba to Alexa?
If you have imagined yelling at your Roomba while watching it from a distance, then this is your chance. Alexa is an Amazon product and a virtual assistant with the capability to interact with voice. 
One of the operations it performs is connecting your Alexa to your Wi-Fi enabled Roomba. Note that not all the Roombas on the market can do this, but if you have interests in using Alexa with your Roomba, ensure that you get one with wireless capability.
How does Roomba work with Alexa?
Every day, there is a continuous chase to keep Roomba customers automated and simplify their cleaning needs. With most of the Alexa compatible robot cleaners, you can schedule to clean up your house to seven times in a work using the iRobot Home app. The Roomba skill for Amazon Alexa with your autonomous cleaning device increases your reach. It makes it smarter than ever and more obedient.
By yelling a simple command like "Alexa, ask Roomba to begin cleaning," your vacuum robot gets to work. The voice command controls the start, pause, and stop of all cleaning jobs without needing to apply the typical effort required to operate the Roombas.
Which Roomba is compatible with Alexa?
For Roomba 900 series vacuum owners, you can have your Amazon Alexa connected to the iRobot. Asides from the iRobot, the Alexa voice command also controls some vacuum robots by Samsung and Neato. 
Besides, the iRobot Home App also has a new Clean Map feature that tracks the performance of your device as it cleans your home. It allows you to view a map of the cleaned areas to know where the robot vacuum cleaner had to do the most work. You can see it from the app's history tab and adjust your cleaning habits to focus on the places with the highest concentration of dirt or debris.
Although the iRobot is not the first firm to integrate Alexa's voice commands with the vacuum robots, Neato did it first. The focus of the iRobot is mainly on the Roomba. It gives a high hope for the future Roomba in a smart home.
Neato put out software that allows customers to use Alexa voice command to control their Botvac connected robots. Samsung unveiled theirs about a month after, and a few months before, the iRobot released theirs.
[thrive_headline_focus title="How do I set up Alexa on iRobot?" orientation="left"]
Smart Assistant integration applies to your entire fleet of machines. You cannot run it individually or on a vac by vac basis. Follow these steps to get connected.
Launch the iRobot software 

Click the settings option, which should be on the top left corner.

Tap the "Smart Home" option

After that, then select the "Works With Amazon Alexa" option

Select the "Link Account" icon

Then it kicks you to the Alexa app, but if you don't have the application installed on your device, the link will open in the web browser.

Hit the link button; it should send you again back to your iRobot app
Now you should get a notification from the Alexa app that it detects your Roomba. However, if this doesn't happen, go ahead and do a manual device search.
There is no need to enable the Skill manually. Once the two accounts are linked, it gets done. Keep your Roomba connected to a Wi-Fi network. But you also need to know that you need a 2.4 GHz Wi-Fi network to make this connection.
Once the voice assistant recognizes the commands, you know your job is excellent. However, if they are wrong, Alexa will not respond. For example, after creating a command like "Ask Roomba to stop cleaning." Then something different like "Ask Roomba to stop vacuuming room" you should not expect Alexa to recognize this voice command.
Does Braava work with Alexa?
With the Alexa, you are only a few words away from a cleaner home. The Braava is compatible with the Alexa, so you get to vacuum, mop, and mow without moving a step. 
As an Alexa-enabled device, you get to give a voice command that puts your Braava jet into motion and clean specific rooms. This is even an advantage since you don't need to wait until its habit time before cleaning the unexpected messes. 
Once you link your device with your Roomba or Braava jet model, it lets you use simple commands to operate it. You get to start, pause, stop, check status, locate, schedule, clean by rooms, or send your device back to the charging station – all by giving simple voice commands.
Alexa Roomba Commands
[video_page_section type="youtube" position="default" image="" btn="light" heading="" subheading="" cta="" video_width="1080″ hide_related="false" hide_logo="false" hide_controls="false" hide_title="false" hide_fullscreen="false"]https://www.youtube.com/watch?v=rZJgnNAzDw8[/video_page_section]
To enable the Roomba Alexa skill, you need to give commands. As long as your robotic cleaner is compatible with Alexa and the necessary setup is done, you can try the commands mentioned below.
"Alexa, ask Roomba to start/ stop cleaning" – You can begin or halt the cleaning process your voice. Once you stop the Roomba's job, it returns to its charging station
"Alexa, ask Roomba to go back home" – You can use this to send the Roomba to its home station to get charged.
"Alexa, ask Roomba what it is doing." With this command, you can check on your Robot by asking Alexa if you want to know whether it is cleaning, waiting, or charging. Alexa will reply to you, so you can give orders if you need the Robot to change its action.
Alexa, ask Roomba where it is?" – To get the location of your Roomba in the house, instead of searching for it yourself, you can ask Alexa. Regardless of where it is, under furniture or lost in a separate room, it emits a beep once when you ask Alexa to search.
Instead of using the apps as you do with the previous models, you can get it done virtually via the commands. One thing here is that you can also schedule cleaning tasks via the commands.
---
How to Connect Roomba to Google Assistant?
Roombas generally come with built-in sensors to help them navigate through the areas of the house without bumping into random objects. Regardless of the model, they can detect spaces in the house that is not yet vacuumed. They also move around in an arrangement.
Roomba makes most cleaning easy in lots of situations. However, to even make it more convenient, you can control it with the sound of your voice with your Google home just like you do with Alexa. 
Do iRobot work with Google Assistant? 
The iRobot devices also have a base where it goes to get its battery charged. It begins the cleaning process from the bottom and ends there again after the cleaning cycle is completed. Asides from this, there are other functions of the iRobot that many have you requiring a smarter device.
Google Assistant is another compatible smart home device that you can control with voice commands and get responses to make the entire automatic vacuuming easier. Although to do this, you need to have an iRobot that is compatible with your other smart home devices like the Google Home.
[thrive_headline_focus title="How do I sync Roomba with Google home?" orientation="left"]
The process you need to sync the Roomba to the Google Home or Assistant is a bit different from the Alexa. But with the proper approach and steps, you can get both of them linked together. To make this happen, do the following:
[one_half_first]
Download the iRobot Home Application

Ensure your robotic cleaner is connected to Wi-Fi 

To begin setup, locate the "Get Started" option in the app menu

Create the commands on the Google Home app

Use the instructions in your Google Home app to link your Roomba to Google Assistant

Hold on for Google Home to specify that Roomba is successfully connected, then start stating commands
[/one_half_first][one_half_last]
However, if you don't have the iRobot application, follow this process instead.
Launch the Google Home app

Tap the "Add" option on the main screen

Select "Set up device."

Click on "Have something already set up?"

Proceed with the search and the iRobot from the options

After that, it will redirect you to that iRobot app

Confirm to link your accounts 

After the confirmation, it redirects you to the iRobot app

Now, you get to select your Roomba

Choose the room and verify the home address
[/one_half_last]
Which Roomba robot vacuum works with Google home?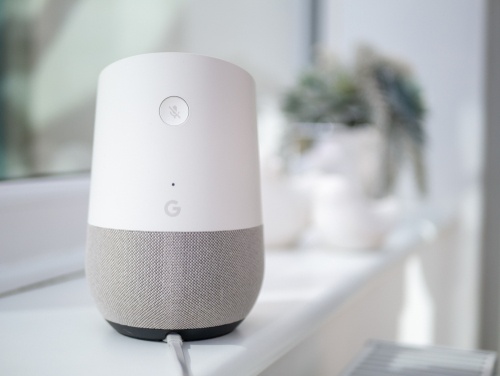 To set up the Google Home in the first place, you need a tablet or smartphone with at least an android 6.0 running in it to get access to all the functions on the Google Assistant app.
Now, just like Amazon Alexa, not all Roomba models will function with Google home. Only those that are capable of Wi-Fi connection will work. Models like Roomba 690, Roomba 890, Roomba 960, and Roomba 980 will connect with Wi-Fi and use Google Assistant. You should also check your product manual for information to see if your device will work.
Also, don't use your vacuum cleaner on the 5GHz network; it would not work. You need to have a combo 2.4GHz/5GHz router or a 2.4GHz router. Regardless, you should not have problems since most modern routers support both frequencies. 
Why is Roomba not working with Google Home?
If you are unable to get your Roomba to work with Google Home, check the following:
Confirm that you downloaded the right iRobot Home App, and it is updated to the latest.

You are logged in to your iRobot account

Pop-up blockers are not activated on your mobile device.

You should also review the entire Google Assistant pairing process
Note: 
[pullquote align="normal"]The Google Home and Amazon Alexa can control the Roomba by voice commands in the same home. However, they do not work together. They each respond to different commands one at a time. You can effectively toggle between both assistants whole carrying out the functions on the Roomba[/pullquote]
Some Additional tips to keep you in track
Before connecting the Roomba to the assistant, make sure the devices are connected to Wi-Fi. Otherwise, the connection will fail

Ensure you are giving the commands that the assistant understands. Always remember the commands you created in the setup process.
---
Wrap-Up
With voice commands, by simply saying what you want, you can control your Alexa and Google Home. But, these virtual assistants need to recognize your commands unless you will not get a response. Also, ensure you follow the right steps required to set up these commands.