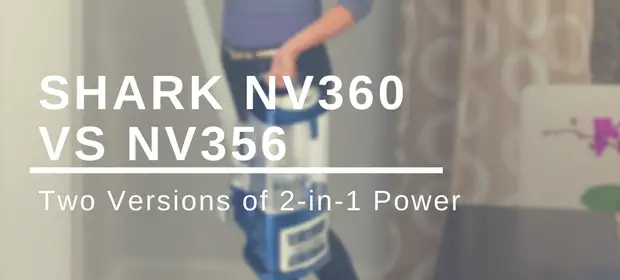 The Lift-Away line from Shark is generally lauded for combining power and convenience into the same lightweight package. All of the models in this line have an impressively thorough filtration system, making them excellent choices for users with allergies, and have a detachable canister for 2-in-1 portability and convenience.If you're comparing different Lift-Away models, though—such as the Shark NV360 vs NV356—it can be tricky to figure out exactly which one is right for your particular purposes. Read on below for a break down of the differences that can help you make your choice.
QUICK COMPARISON TABLE
INDIVIDUAL REVIEWS
Shark NV360
The Lift-Away Deluxe Upright from Shark (model number NV360) is a bagless upright that combines value, portability, and power into what is, for many customers, the ideal in cleaning technology.
Features
The detachable canister featured on the Shark Lift-Away line is the feature most people are initially drawn to. It enables you to easily reach higher onto walls and ceilings, or further under furniture or other hard to reach areas, without having to worry about hoses and clunky attachments. It also lets the vacuum maintain the same high suction power regardless of mode.
The combination of the HEPA filtration and Complete Seal Technology ensure what you sweep up will stay in the vacuum, while the specialized technology employed in the Lift-Away line guarantees consistent suction on all surfaces. The motorized brush can be easily toggled on or off for seamlessly switching between hard floors and carpets.
The convenience of the NV360 is just as worth consideration as its power. It has a low enough profile to fit under most furniture even without detaching the canister, while the long cord means you can clean anywhere inside your home easily without stopping to find a new plug.
The extendable appliance wand is easy to use, too, with an array of specialized tools included for a variety of situations. The dusting brush and crevice tool will be useful for detail cleaning in every room of your house. If you own cats or dogs, you'll also likely be very interested in the pet power brush, which excels at grabbing shed fur off of both floors and furniture.
PROS
What we like:
Equally high performance on all floor types
HEPA filtration removes allergens from air
Excellent value
Large dust bin capacity
25-foot cord helps with cleaning large areas
Specialized tools included for pet owners
CONS
What we didn't like:
Corded operation limits its portability
Narrower head may mean more passes in large rooms
Detached canister can be tricky to manage on stairs
Shark NV356
The NV356 from Shark is a professional upright vacuum with an easy to detach canister that makes it versatile enough for cleaning your entire home with ease. Comparing the Shark NV360 vs NV356, you'll find they're incredibly similar, with the difference being in the power and dust-removal abilities of the NV356.
Features
The NV356 from Shark is guaranteed to remove 99.9% of the dust and dirt from both your floors and the air expelled from them—an exciting prospect for anyone who has issues with allergies and needs to ensure a complete clean of their home.
Like with the NV360, the swivel steering makes it very easy to maneuver around obstacles in your home, simplifying the cleaning process. It also has a much larger bin capacity than most vacuums with a detachable canister, meaning you can clean for longer without stopping to empty it and making it much more convenient for whole-house cleaning.
As impressive as the on-board features of this model are, the included accessories are what really make it shine. The bare floor cleaning attachment is designed to maintain total suction on hard floors and ensure a total clean without causing any scratches or other damage.
The included pet cleaning tools, meanwhile, are a god-send if you need to vacuum up pet hair, spilled litter, or other animal-created messes. Regardless of which attachments you're using or what kind of floor you're cleaning, this vacuum will never lose its suction, ultimately giving you a worry-free clean in all situations.
PROS
What we like:
Powerful suction on all floor types
Complete Seal system traps 99.9% of allergens
Lightweight and easy to steer
Detachable canister for easy cleaning of tight spaces
30-foot cord gives you an impressive reach
CONS
What we didn't like:
Corded operation can be limiting
Higher price point
Slightly smaller dust bin than NV360
CONCLUSION
Both of these Lift-Away models from Shark give you a professional-level clean in a vacuum designed to work well in any home. As you can see, the differences between them are minor. When you're considering the Shark NV360 vs NV356, the biggest differentiation will be the price.
The NV356 comes in at a higher price-point than the NV360. For this extra expense, you'll get a longer cord for more convenient cleaning of larger spaces along with a more comprehensive filtration system. If you don't need these added features, though, you'll get the same easy operation for less money going with the NV360.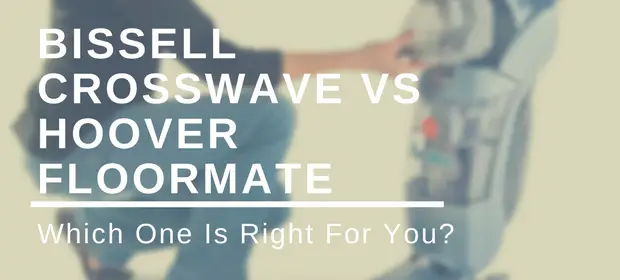 Cleaning floors is never fun, but it has to be done. It's one of those necessary evils, one that you need the right tool for. We're here today doing a Bissell CrossWave vs Hoover FloorMate comparison to see which one is better for you. Both of these models use water to scrub your floor, but they do have one big difference. Let's get to it and find out which of these is ideal for you.
QUICK COMPARISON TABLE
| Product Name | Bissell Crosswave | Hoover Floormate |
| --- | --- | --- |
| | | |
| Editor's Rating | | |
| Weight | 11 pounds | 16 pounds |
| Dimensions | 10.5 x 12 x 46 inches | 27.6 x 14.6 x 12.6 inches |
| Tank Capacity | 28 oz | 32 oz |
| Price | Check on Amazon.com | Check on Amazon.com |
INDIVIDUAL PRODUCT REVIEWS
Bissell CrossWave
The Bissell Crosswave is a really neat option to go with, one that we really like for various reasons. Perhaps the best part about this particular wet and dry vacuum is that it can be used for both carpets and hard flooring.
When it comes to hard floors, the Bissell CrossWave is a 2 in 1 vacuum and mop, which works wonders for getting dust, dirt, and stuck on messes too.
It features a dual tank system, with one tank for water and detergent, and another for storing the dust and dirty water. You can add plain water, water and vinegar, or special detergent too.
The brush roll on the Bissell CrossWave is specially designed to scrub the floor, get stuck on messes loose, and suck up all of that dirty water. It is made with water absorbing materials to make sure that your floor is not left soaking wet.
At the same time, with the simple touch of a button, you can then use the Bissell CrossWave to vacuum your carpets. No, you cannot actually turn the water off, but the Bissell CrossWave does use less water for carpets. This ensures that carpets don't get way too wet, and thus they dry fairly quickly.
The brush roll works alright for carpets, mostly for thinner carpets and area rugs. That being said, it does not work all that well for thick carpets, as the brush won't penetrate down too deep. However, as you can see, from our personal experience, the Bissell CrossWave is a good all in one wet and dry carpet and hard floor cleaning tool.
We do also like how the Bissell CrossWave is very easy to maintain. You can disassemble the brush roll for easy cleaning. Also, this model comes with an easy carrying handle, it is small and compact, and it stands up all on its own too. The Bissell CrossWave may be a simple wet and dry vacuum, but it definitely works wonders for hard floors, plus it's not bad for carpets either.
PROS
What we like:
Easily switch from carpet to hard flooring
Uses less water for carpets – doesn't soak them
High speed brush roll for getting stuck on messes
Stands upright on its own
Small and compact
Dual water canisters, one for clean solution and one for the dirty water
Can be used for hard flooring and thinner carpets
CONS
What we didn't like:
Doesn't work well for thick carpets
Doesn't work too well for pet hair
>>> Click Here to Read Owner Reviews
The Hoover Floormate is a little bit different from the Bissell CrossWave, mainly in one big way.
Whereas the Bissell CrossWave can be used for hard flooring and carpet, the Hoover FloorMate can only be used for hard flooring, specifically for hardwood. Some people would see this as a disadvantage.
However, this is actually something we like. Yes, the CrossWave does a decent job at cleaning both hard and soft surfaces, but not the best job. While the Hoover FloorMate only does hard flooring, it does a fantastic job at cleaning them.
Everything else except for that one difference is fairly similar. The Hoover FloorMate comes with a dual canister system. One canister is for water and cleaning solution while the other tank is the dirty water tank.
Moreover, the Hoover FloorMate features a 3 stage process that consists of vacuuming, mopping, and drying. First you can use the Hoover FloorMate to vacuum the floor, followed by a thorough scrubbing, and then finish it off with the awesome drying feature.
The brush on the Hoover FloorMate is designed to scrub away stuck on messes and absorb water from the ground. It will get those sticky juice stains on the ground while not completely soaking the floor. The brush actually moves in horizontal circles for as much scrubbing power as possible. It consists of 5 small individual circular brushes that move in concentric circles.
The Hoover FloorMate is definitely a fantastic option to go with if you have lots of hard flooring in your home, especially hardwood floors. It can also stand up all on its own, plus the handle actually folds down for compact storage. That being said, the Hoover FloorMate is definitely larger than the CrossWave.
PROS
What we like:
Fantastic for hard flooring
Awesome cleaning tool for hardwood floors
All in one vacuuming, mopping, and drying action
Great brush for scrubbing stuck on messes
Dual tank setup for easy use
Stands upright by itself
Folding handle for storage
Pretty good at getting pet hair
CONS
What we didn't like:
Doesn't work for carpets – only hard floors
Fairly large and heavy
>>> Click Here to Read Owner Reviews
CONCLUSION
This one is actually pretty simple. When it comes to the Bissell CrossWave vs Hoover FloorMate debate, if you need a decent tool for carpets and hard floors, the CrossWave is the way to go. However, if you need a fantastic hardwood all in one vacuum and mop, the FloorMate is your better option.
FAQ
Does the Bissell Crosswave clean grout?
It certainly does, as long as you're using the right brush for the job. The nylon bristles that are interspersed between the microfiber portions of the multi-surface brush roll are designed to dig down into cracks. They're quite effective at basic cleaning of grout, as well as other seams, gaps, and cracks in your hard floors, although there aren't enough of these nylon bristles to be very effective at scrubbing away caked-on or ground-in dirt.
Can I use the Bissell Crosswave for dry vacuuming?
You can, although it's not our favorite choice for the purpose. You'll definitely get better results with most vacuums that are designed for the purpose, which will give you a higher suction power and more effective overall clean. It will work for light dry vacuuming, like picking up stray dust or hair before you start to mop, but we wouldn't recommend it for anything more extensive.
How hard is it to clean the Bissell Crosswave?
We actually found this vacuum very easy to clean. In fact, it comes with a tool called the Easy-Clean Storage Tray that's very aptly named. Just place your vacuum into the storage tray and fill it with water, then turn on your vacuum to start the brush roll moving and let it run until it's picked up all the water. Once this is done, you can dry out the cleaning tray with a paper towel and remove the brush roll, standing it upright in the provided slot to dry. Once that's done, all you have to do is empty and dry out the dirty water tank, and your vacuum will be ready to go for your next cleaning session. The video below walks you the whole process step-by-step.
How to Clean Your CrossWave Pet Pro After Use
What is the difference between different models of Hoover FloorMate?
You've seen the details of the Hoover FloorMate SpinScrub in the review above. This is model number FH4001. You'll also see a FloorMate SpinScrub being sold under model number FH40030. This is the same vacuum, but comes with more accessories, including a detail kit, and sells for slightly more.
The FloorMate Deluxe, on the other hand, is a bit of a different beast. The first thing you'll notice is that it has a sleeker build and weighs slightly less. Despite this smaller build, it still has a larger tank capacity (48 ounces compared to 32 on the FloorMate SpinScrub). It also comes with a few extra features, like a Clean Boost control and a cleaning brush specifically designed for wood floors. While all these models will give you the same basic clean, we'd say the FloorMate Deluxe is more versatile, and the FloorMate SpinScrub is a better value.
How do you clean the Hoover FloorMate?
This is a very low-maintenance floor cleaner, and cleaning it is a quick process. Start by unlatching the nozzle and pulling it out to remove it. Once you've done this, you can simply rinse the nozzle under running water and wipe the squeegee with a damp cloth.
To clean the brushes, you'll first need to remove them, which means laying the floor cleaner down on its back. We recommend taking off the tanks before you do this just to keep anything from spilling or leaking. This will also make the FloorMate lighter and easier to maneuver. The brush release buttons are on either side of the brush head. Once it's removed, you can clean the brushes with soapy water. Mild soap like dish soap is fine. The only thing you want to avoid is using a solvent-based cleaner, since this can break down the material in the brushes over time.
Does the Hoover FloorMate put a lot of water on the floor?
It will get your floors wet, although it will certainly put less water on them than if you mopped the old-fashioned way. You also have control over how much water it spits out. The longer you hold down the dispensing button, the more water you'll get, so you can limit the amount of water by using a light touch. It will also suck up any excess water that does end up on your floor when you turn on the squeegee. Make sure when you do this that you give the squeegee time to absorb all the extra moisture.
The main reason people end up with wet floors after using the FloorMate is that they try to rush through the squeegee stage.